It's not just a boat, it's a lifestyle!
Don't put off your dreams!
We will help you set up a financing plan that gets you out on the water as soon as possible. Just apply with our secure, online application powered by First Approval Source. A representative will reach out to you shortly to help you find a loan package that fits your budget, timeframe, and goals.
If you're longing for the freedom and excitement of boating, Fogarty's Lake Flower Marina is the ultimate destination to fulfill your dreams. Located in Saranac Lake, New York, Fogarty's Lake Flower Marina is a premier marina renowned for its exceptional service, diverse boat selection, breathtaking location, and commitment to customer satisfaction. Let's explore the reasons why Fogarty's Lake Flower Marina is the ideal choice for purchasing your next boat.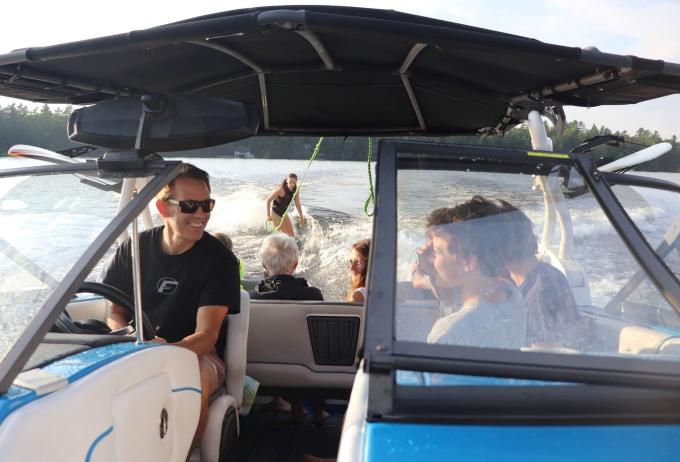 Fogarty's Lake Flower Marina offers a serene setting that will instantly get you in the mood to be out on the water. The marina is situated on the stunning Saranac Lake, which provides endless opportunities for exploration, water sports, and relaxation. The surrounding Adirondack Park boasts pristine forests, majestic peaks, and crystal-clear lakes, making it a boater's paradise. The area itself boasts hundreds of scenic waterways, including Lake Flower, Oseetah Lake, Kiwassa Lake, Lake Clear, Upper Saint Regis Lake, Spitfire Lake, and many more. Owning a boat from Fogarty's Lake Flower Marina allows you to immerse yourself in this natural wonderland and experience the beauty of nature firsthand.
High-Quality Boat Selection
Fogarty's works exclusively with renowned manufacturers who share their vision of uncompromising quality. Their team of experienced technicians leaves no stone unturned, conducting thorough checks and inspections to ensure that every aspect of your boat is pristine. Trust in Fogarty's to deliver a boat that not only meets your expectations but surpasses them, offering a seamless blend of durability, longevity, and unrivaled enjoyment for years to come.
Fogarty's Lake Flower Marina offers an extensive selection of new and used boats from top manufacturers, including Bennington, Nautique, and Lund. Whether you're looking for a pontoon boat, a sporty speedboat, or a comfortable cruiser, Fogarty's has the perfect vessel to suit your preferences and budget. Their experienced team will work closely with you to understand your boating needs and help you find the boat that best matches your lifestyle and aspirations.
Exceptional Customer Service
At Fogarty's Lake Flower Marina, customer service is a top priority. Their friendly and knowledgeable staff is dedicated to ensuring your boating experience is nothing short of exceptional. They take the time to listen to your requirements, answer your questions, and provide expert guidance throughout the boat-buying process. Their commitment to customer satisfaction is evident in the long-lasting relationships they build with their clients.
Professional Maintenance and Repairs
Fogarty's Lake Flower Marina offers comprehensive boat maintenance and repair services to keep your vessel in top condition. Their skilled technicians are trained to handle all aspects of boat care, from routine maintenance to major repairs. They use the latest tools and genuine parts to ensure your boat operates at peak performance. With their expertise, you can trust that your boat will receive the highest level of care and attention, maximizing its lifespan and minimizing downtime.
Fogarty's Lake Flower Marina partners with us at First Approval Source to make the boat loan process as easy as it could possibly be. Our team works with over 20 trusted lenders to secure competitive rates and terms, making it easier for you to bring your boating dreams to life. The process is seamless and stress-free, allowing you to focus on enjoying your new boat and your new lifestyle!
Full-Service Marina Amenities
Fogarty's Lake Flower Marina offers a range of amenities to enhance your boating experience. Their full-service marina includes slip rentals, boat storage, fuel dock, and a ship store stocked with essential supplies and accessories. Whether you need to refuel, stock up on boating essentials, or require a secure place to store your boat, Fogarty's has you covered. Their team is committed to providing you with everything you need for a seamless and enjoyable boating experience.
Access to Incredible Waterways
Owning a boat from Fogarty's Lake Flower Marina opens up a world of incredible waterways to explore. Lake Flower itself offers ample opportunities for boating, fishing, water sports, and leisurely cruises. In addition, the marina's location provides convenient access to other nearby lakes and rivers, such as Saranac Lake, Lake Placid, and the historic Saranac River. With Fogarty's, you have the freedom to discover new destinations, uncover hidden coves, and immerse yourself in the natural beauty of the Adirondacks.
Fogarty's Lake Flower Marina provides the perfect platform for you to embark on your boating adventures. You can expect an enjoyable boat-buying experience that combines exceptional service, an extensive boat selection, breathtaking surroundings, and a welcoming boating community. 
Visit their website at www.lakeflowermarina.com to explore their inventory, learn more about their services, and connect with their knowledgeable team. Discover the joy of boating with Fogarty's Lake Flower Marina and get ready to create lifelong memories on the water.