It's not just a boat, it's a lifestyle!
Don't put off your dreams!
We will help you set up a financing plan that gets you out on the water as soon as possible. Just apply with our secure, online application powered by First Approval Source. A representative will reach out to you shortly to help you find a loan package that fits your budget, timeframe, and goals.
Tampa Bay and the Gulf Coast of Florida are some of the biggest hotbeds for the boating community as a whole. It's almost impossible to pass by and not see hundreds of people out enjoying their boats on a nice, sunny day. If you're ready to embark on unforgettable aquatic adventures, Thunder Marine should be your go-to destination for purchasing a boat. Located in Florida in the Tampa Bay area, Thunder Marine is a premier boat dealership with a stellar reputation for providing exceptional service, a diverse selection of boats, expert maintenance and repairs, and a commitment to customer satisfaction. Let's explore why Thunder Marine is the ideal choice for all your boating needs.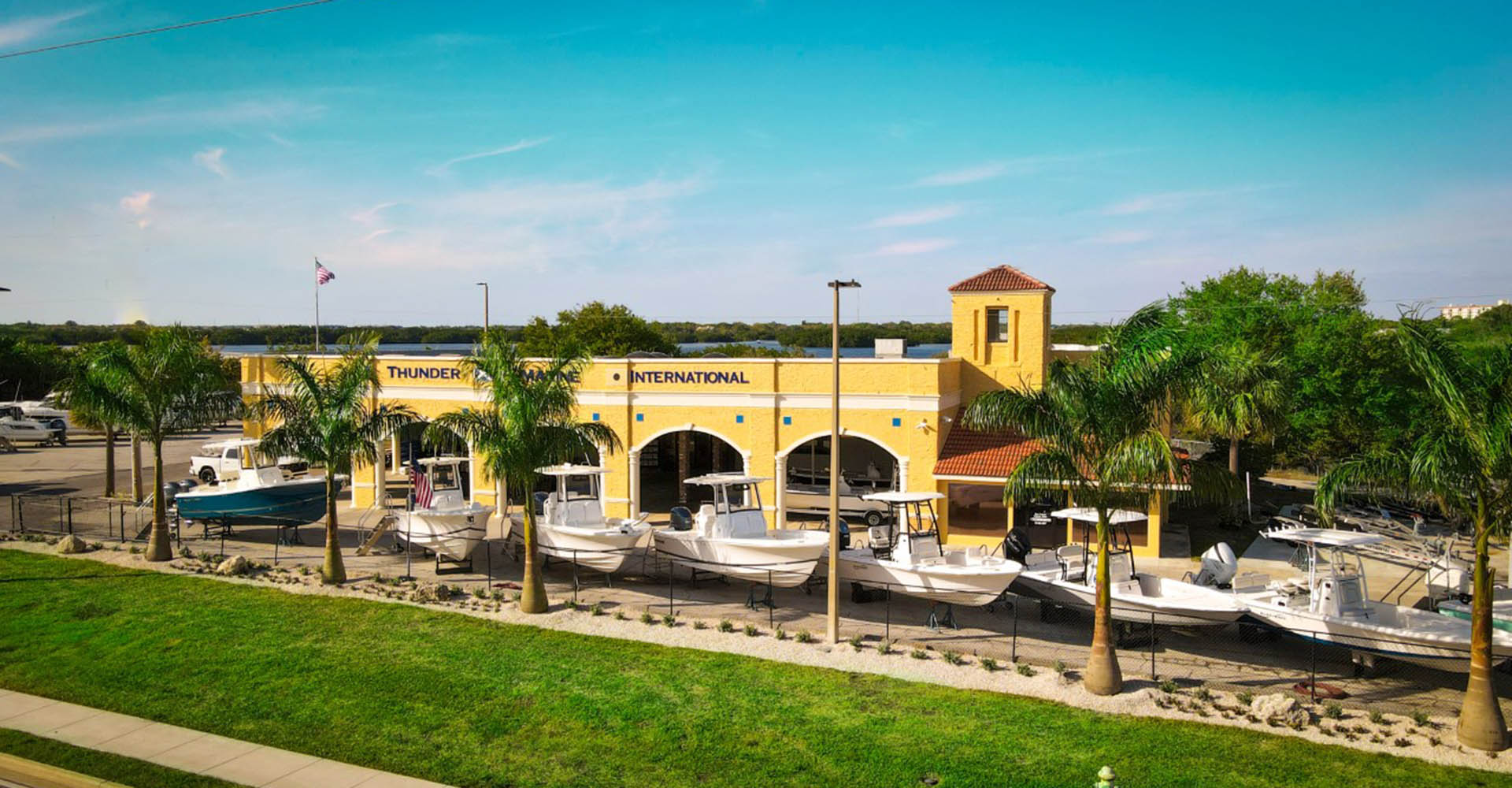 Unmatched Customer Service
At Thunder Marine, customer service is more than just a priority—it's a passion. Their friendly and knowledgeable team is dedicated to ensuring your boating experience exceeds expectations. Whether you're a seasoned boater or a first-time buyer, their staff will listen attentively to your requirements, answer any questions you may have, and guide you through the boat selection process. Their commitment to building lasting relationships with customers is evident in the glowing testimonials and repeat business they receive.
Thunder Marine boasts an extensive inventory of new and pre-owned boats from leading manufacturers such as Jeanneau, Regulator, Sportsman, Monterey, Blue Wave, and Solace. Whether you're seeking a reliable center console, a versatile fishing vessel, or a luxurious yacht, Thunder Marine has the perfect boat to fulfill your desires. Their wide range of options allows you to find a boat that aligns with your specific needs, preferences, and budget.
When you purchase a boat from Thunder Marine, you can have full confidence in the quality and reliability of your investment. They meticulously select each boat in their inventory, ensuring that only the finest vessels make it onto their showroom floor. Furthermore, their expert technicians conduct thorough inspections to guarantee that every boat meets the highest standards of performance, safety, and functionality.
Professional Maintenance and Repairs
Thunder Marine is not just a boat dealership; it's a comprehensive service provider. Their skilled and certified technicians possess the expertise to handle all aspects of boat maintenance, repairs, and upgrades. From routine tune-ups to complex engine overhauls, they utilize cutting-edge tools and genuine parts to keep your boat in peak condition. With Thunder Marine, you can rest assured that your investment will be well taken care of for years to come.
Thunder Marine understands that purchasing a boat is a significant financial commitment. But buying a boat should be fun, so the boat loan process shouldn't feel like a burden. To make the process more accessible, they have teamed up with us at First Approval Source to provide boat loans for their customers. Our team works closely with reputable lenders to find the most competitive rates and terms that suit your budget and financial goals. With Thunder Marine and First Approval Source, you can navigate the financing process smoothly, enabling you to bring your boating dreams to life.
Situated in the heart of the Gulf Coast, Thunder Marine enjoys an enviable location that grants boating enthusiasts access to some of the most picturesque waterways and destinations in the state. From the ever-popular Gulf Coast to the vibrant Atlantic Ocean, Florida's diverse boating playground awaits you. Thunder Marine's proximity to the water means you can set sail and create cherished memories as soon as you acquire your boat. 
When it comes to purchasing a boat, Thunder Marine stands out as a premier destination. With their unmatched commitment to customer service, an extensive selection of high-quality boats, professional maintenance and repairs, industry-best financing options, and an unbeatable location, Thunder Marine offers an unparalleled boating experience.
Visit their website today at www.thundermarine.com to explore their impressive inventory, learn more about their services, and connect with their knowledgeable team. Whether you're a seasoned boater or embarking on your first boating adventure, Thunder Marine will provide you with the guidance, support, and exceptional products you need to make your boating dreams a reality. Get ready to create lasting memories on the water with Thunder Marine, your trusted partner in boating excellence.